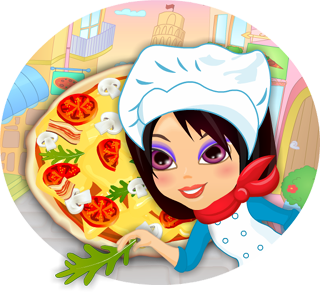 Pizza Maker Deluxe is a free Android app. Hania the baker invites you for a delicious pizza straight from the oven of an Italian restaurant. Numerous ingredients and unlimited combinations will provide endless fun for both adults and kids.
 Ingredients
We have different pizza shapes to choose from: traditional – round, home style – square or fun – flower- or heart-shaped.
After we decide on the pizza shape we will cover it with one of four available sauces. Another step is decorating the pizza with delicious ingredients such as tomatoes, mozarella cheese, mushrooms, prawns, chunks of pineapple or sausages. You will find all of these ingredients and many others in the following categories:
– cheeses (6 varieties),
– meat (6 varieties),
– vegetables (16 vegetable ingredients)
– fish and seafood (8 different ingredients).
After we prepare the pizza we bake it in the authentic oven over the fire so the aroma of the pizza dough and the ingredients is slowly released into the air. Finally we can give the pizza a final touch with basil leaves or a sprinkle of parmesan. Squeezing the bottle of ketchup or garlic sauce will be great fun for the kids.
Joy of baking
When we play we are accompanied by animated scenes of pizza baking. We hear pleasant sounds that make the pizza baking process even more realistic and a music straight from the sunny Italy, so we can feel the atmosphere of a real pizza place.
Three game modes
– relax – here we prepare the pizza just as we like it,
– memory – in this mode we try to remember as many ingredients as possible and then follow the recipe,
– puzzle – our task is to place the ingredients in the correct places.
Information
Content rating: PEGI 3
Android version: 4.0.3 and higher
Number of installations: over 100 000
Price: free, contains ads
Size: ~39MB
Download link: Google Play
Privacy Policy link: Privacy Policy
Screenshots: